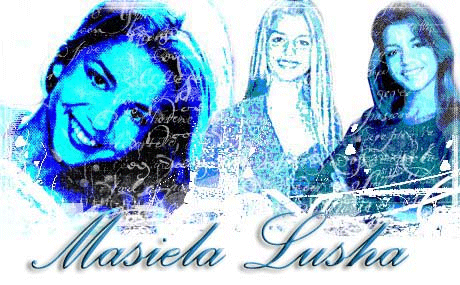 Thursday, March 14, 2002
Hey everyone! I am still working slowly on the site to make this layout one of the best ones I have made yet. So far I love this site. Just getting all the stuff to flow together and then getting all the links to work! But, keep checking back. I promise I will work my behind off till its done.

Today, is also my birthday :) Ya me! The big 17. Geez I am getting old! Any ways, so far its nice day.

Also, if any one out there has any photos of Masiela feel free to email them to me please at enigma9009@hotmail.com. I would greatly appreciate it.


Wednesday, March 13, 2002
Welcome to my fan site on up and coming actress Masiela Lusha!

Masiela is on talented and beautiful girl. I wish her the best of luck in all she does. She currently has the role as "Carmen" on a new ABC TV show "The George Lopez Show". Promos of this show has been airing occasionally since Feb. So keep your eyes out!
I hope you all enjoy my new site. I promise I will try to keep it updated much as possible. And Masiela, ever check this site out, your a really nice person, best of luck to you :).
Before you leave this site, please sign the guest book! I would greatly appreciate it.

And remember to vote for my site by clicking on the image below!